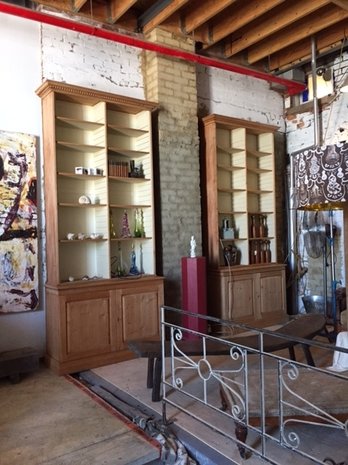 Pr of high quality bookcases made around 2007

I made them for a fine terrace house I furnished in South Yarra, the brilliant client and friend is now moving to Chelsea London.

The bookcases will stand well beside any fireplace. there understated washed finish will not attract attention away from your fine furniture & art
The bookcases are from the end of a time when I had the enjoyment of my hobby of making some great libraries in the styles of Chippendale and William Kent, all the libraries where built without a time limit or quote and 100% recyclable, they can be modified with ease. I no longer have the free time for the hobby. none of the libraries have come up for sale as yet.

The pr of bookcases can be bought for $7,700 changes can be made to them at a small cost.ie changing colour of interior to room colour change in height.
2840mt high x 1240
I feel its far more environmental for home not to have builtin cabinets, but ones that can be removed when the home takes on a new owner.






---




Gothic bookcase 1890s

---